Pored uverenja da će Onecoin izaći u skorijoj budućnosti na berzu i imati neku vrednost, postoji još jedan veoma važan razlog, a to je isplata provizija. Razni su tu bili pojedinici i grupe preko kojih je išla regrutacija i svako od njih dobio je određeni procenat. Međutim, ta provizija od uplaćenih para novoregrutovanih je velikom delu tih takozvanih "lidera" ostala van domašaja.
Neki se snalaze tako što preprodaju postojeće kvazi-edukacione pakete drugim naivčinama za gotov novac. dok drugi uporno pokušavaju mesecima pa i godinama da povuku, ali bezuspešno, taj novac iliti bonus sa svojih "računa".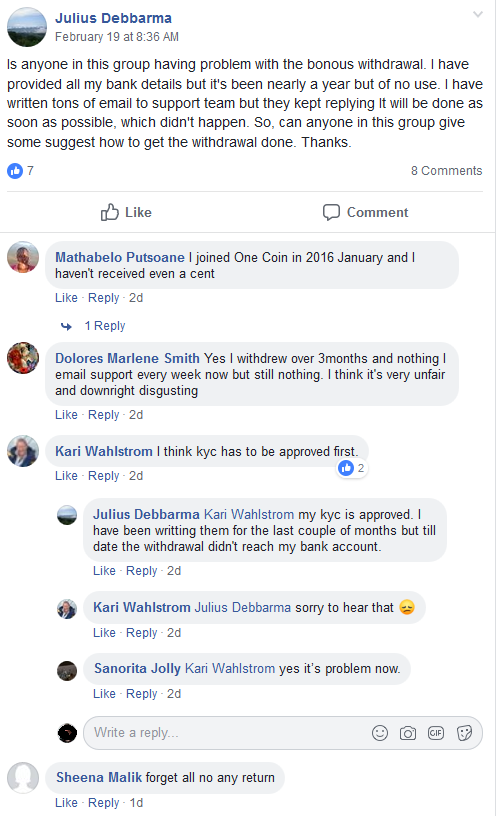 Na drugoj slici imamo da je jednom takvom članu ostalo zarobljeno oko 11224,56 € koje ne uspeva nikako da preuzme, pa pokušava da bar deo sredstava povrati prodajom svog Onecoin naloga.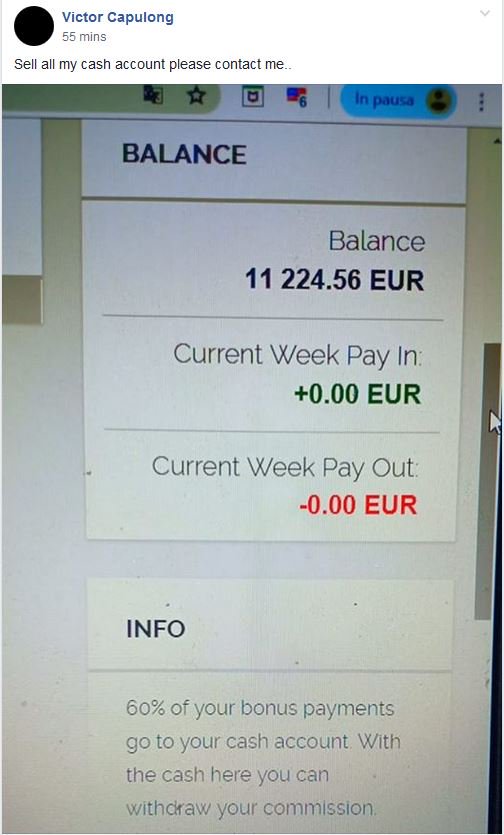 Ima takvih i u Srbiji, i to ne baš mali broj. Neke od njih smo spominjali ovde samo ne u pozitivnom smislu, tzv lideri / eksperti za kriptovalute i onecoin. Dok su pojedini od njih uspeli da se snađu zahvaljujući vezama, drugi nemaju nekog velikog izbora sem da ćute, ne talasaju i čekaju dok se ne ukaže (nova) prilika da dođu do tih para ili na drugi način povrate uloženo.  To su vam osobe koje će uvek naglašavati kako su pošteno radili marketing kampanju (da tako je zovu), da su pošteno plaćeni i da smatraju kako nikoga nisu prevarili.
Pošto se rade o takvom tipu ljudi koje prosto zabole što su druge ovajdili već samo gledaju sopstvenu zadnjicu ne možemo očekivati da će neko od njih dići veliku frku u stilu "a gde su moje pare" jer bi ih ostatak grupe šutnuo od sebe, još bi time sebi uskratili mogućnost da ulete u neku novu šemu. Svakom od njih samo je jedna stvar bitna: novac. Sve ostalo je fake (laž).
Znaju oni dobro da je Ignjatova pod istragom, da je pobegla sa velikom količinom novca, da istrage po Americi i Nemačkoj nisu mala stvar ali dokle god postoji šansa da se dođe do para a neko drugi bude na tapetu istrage, oni će se i dalje plesati u tom kolu. Svako ko je dobro unovčio svoj Onecoin angažman je pobegao na vreme, ostali su samo oni kojima to nije pošlo za rukom ili su se zaglibili previše duboko da bi sad mogli da tek tako lako da se povuku.